Product Description
Key Components: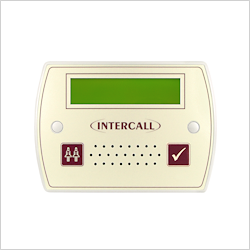 L628 Corridor Display.
Designed to give clear indication and alarm at every monitoring location. The unit features an LCD display with backlight, multi-level adjustable alarm, day/night volume control, 'priority' alarm tone for specific call locations, configuration menus and an output which can be connected to trigger external equipment.
LCD display provides a clear indication of the location and urgency of calls made.
Adjustable volume prevents disturbing residents in sensitive areas. Can be zoned to show only calls made on a particular floor or wing.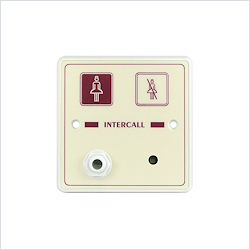 L622 Standard Call Point.
A call point is needed for every individual call location on the system. Every L622 unit features five levels of call, multi-colour re-assurance LED alerts and a 'call follower' sounder. The jack socket accepts inputs from a wide range of triggering devices such as pear leads, pressure mats and portable radio triggers.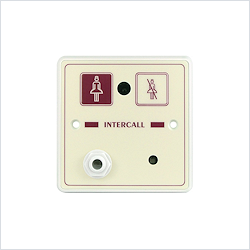 L722 Infrared Call Point.
The L722 unit features a built-in infrared receiver and can be activated using the TIR4 infrared pendant, worn around the neck. This makes it ideal for use in communal lounges so residents with limited mobility do not have to stand up to make a call.
Excellent for bathrooms and toilets
Enables users to make a call without having to leave their seat, via the TIR4 pendant. Retains all the functionality of the L622 Standard Call Point.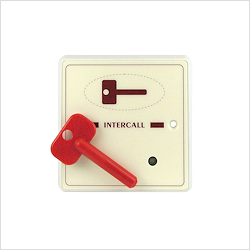 L733 Door Monitoring Point.
If you need to protect fire doors, entrance & exit doors or other sensitive areas, the L733 is the ideal solution. The unit is controlled with a magnetic key token, which performs all functions when swiped on the front panel. The unit also features an integral 20-second exit timer with audible alarm tone and mode jumper to prevent sensitive or dangerous exit doors being permanently left open.
Easy to use, simply swipe the front using the key token provided
Protect sensitive areas without restricting staff movements
Ideal for fire doors and preventing access to staff rooms and drugs cupboards.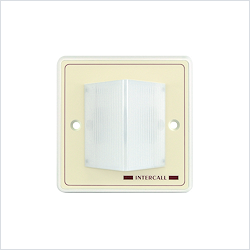 L746 Overdoor Light.
Discrete but clear indication above a door that shows the status of the call points inside the room. The L746 can also be used to monitor several call points for end of corridor indication, or as a "follow me" light. Each unit is fitted with twin ultra-bright LED's which mimic the reassurance indicator on the call points.
Quickly identify which room is calling and what the current call level is.
Enables staff to respond more efficiently.
Also available with an integral sounder alarm.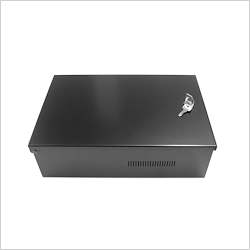 L7700 IP Power Supply Controller.
The L7700 has the capacity to power an entire Intercall system with provision in the enclosure to accommodate a battery for system backup requirements. The unit features an integrated embedded web server used to configure the system configuration, data log access and remote monitoring. In addition, the unit features an onboard calendar clock and disk drive which records all system activity and configuration settings.
Easy to program using a laptop or PC, no software required.
Can be interfaced to IP/DECT phones & paging systems.
Built-in call logging software.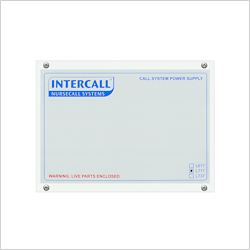 L717 Power Supply Controller.
The L717 may be used with smaller Intercall 600 & 700 systems and the unit provides power and data signals for the network devices and stores the text programming information. The L717 is programmed using the LIMK Limkit programming kit and software.
Ideal for small systems.
Can be programmed with custom room names and numbers.
Backup battery available.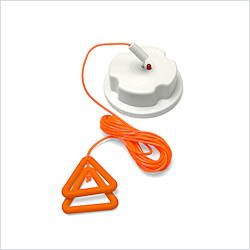 Ceiling Pull Cord.
Specifically developed to give alarms from bathrooms and toilets. The unit is ceiling mounted and features a floor length cord terminated with two easy to use handles. It also incorporates an integral reassurance indicator, which flash to confirm a call has been generated.
Wipe clean plastic cord helps to control infection.
Two easy to grip handles provided.
Re-assurance LED included.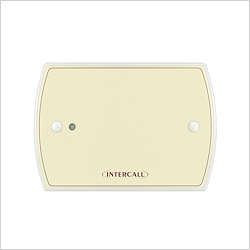 FJB2 Fused Junction Box.
The FJB2 provides four spur outputs from the network spine with each output incorporating a over current/voltage and reverse polarity protection device. In the event of a cable fault on one of the outputs the spur will be isolated without disabling the entire cable network.
LED indication of healthy system or fault.
4 fused outputs for network devices.
Allows the network to continue uninterrupted on partial system failure.
                                  Additional Components & Accessories:
In addition to the standard units which are available for all Intercall systems, there is a wide range of accessories which have been specifically designed to make your system more adaptable for a variety of needs. In particular the range includes the accessories below which enable patients with virtually every level of disability to use the system with ease. In addition to the standard range of accessories, there are bespoke accessories to suit particular requirements. To find out more about these, please contact us.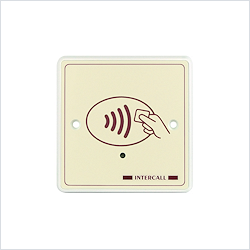 L744 RFID Door Point.
The L744 RFID Door Monitoring & Access Control Point is designed to restrict sensitive areas from unauthorised access by generating an alarm on the call system and controlling the door locking mechanism. Authorised staff carry a proximity card, which isolates the unit and unlocks the door as required and access levels can be set for each card.
Fully programmable to generate differing levels of access.
Logs which user has attended and reset the call.
Accepts normally open or normally closed contacts.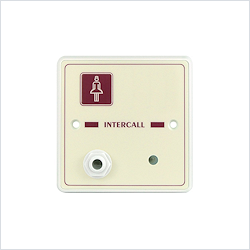 SCP Slave Call Point.
A slave device where additional call units are required to ensure residents are within reach of a call point without incurring the expense of an addressable call point.
Single level of call and LED to re-assure the resident their call is being dealt with.
Ideal for larger dining rooms and lounges.
Connects directly to the addressable call point such as L622.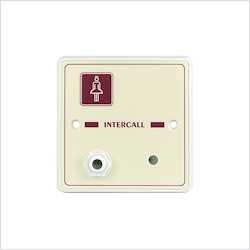 SRP Slave Reset Point.
Slave Reset provides the ability for staff to log into a room as staff member present or to reset a call from an alternative location to the bed head call point. Often located adjacent to the bedroom door to allow staff to carry out night time checks without disturbing the client.
Reset button only.
No call button or jack socket.
Connects directly to the call point – this is not an addressable device.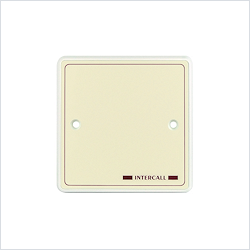 L634 Network Input/Output Module.
The L634 is used to interface external devices to the Intercall system network. Typically telephone ringing detectors (with TA1), contacts from fire alarm or other control panels or input from remote contacts.
Three input triggers and two non-latching triggers.
One remote reset trigger.
Two outputs.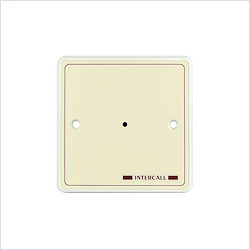 L714 Remote Sounder.
L714 Remote sounders are designed to boost audibility of display panels throughout the home. Ideal for areas where the display may not be heard clearly, such as laundries or kitchens.
Each sounder can be zoned to only alarm for particular rooms if required.
Commonly used where only additional sound is required as opposed to additional visual notifications.
Network powered.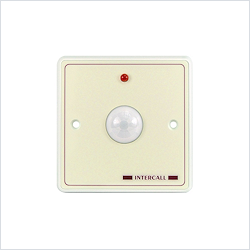 PIR1 Passive Infra Red Detector.
A movement detector designed to monitor when a resident leaves their own bed or enters an area of risk.
Can be isolated with the optional KS1 switch.
Can be linked into a full dementia room with L762 to monitor movement and light switching.
Masking of the PIR can isolate a bed area for example to prevent false alarms.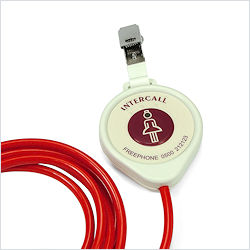 Pear Push Lead.
Enables residents to call while away from the call point. Available in two cable lengths, with clips for securing to bedsheets and clothing.
Available in 2m or 4m lengths.
Reassurance LED informs patients the call has gone through.
Enables residents to make a call from their bed or chair.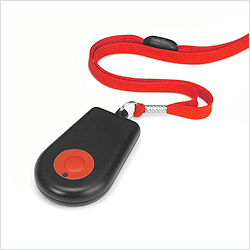 TIR4 Infrared Pendant.
Ideal for users who have limited mobility, the TIR4 pendant is worn around the neck and provides a quick and easy way for residents to make a call. Simply press the button on the pendant and a call is sent via infrared to the nearest call point.
Transmits to wall mounted call points with infrared receivers or dedicated receivers mounted at high level.
Reassurance LED informs patients the call has gone through.
Can be programmed with corresponding room number or resident name using the Intercall programming kit.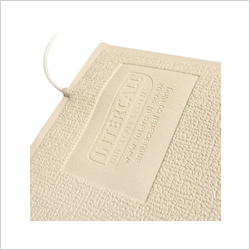 PM2 Pressure Mat.
The PM2 pressure mat has been specifically designed to assist with fall prevention. Positioned alongside the bed or in a doorway, the unit will reliably alert staff when a resident is on the move without being intrusive.
Designed to alarm when a resident applies weight to the mat.
Quickly generates a call on the nurse call system so staff are aware the client is on the move.
Can be used to alert staff when a client moves into a restricted area.
Bed & Chair Exit Alarms.
Detects when someone has left their bed or chair and sends an alarm signal to a nurse call system, staff pager or alarms locally in the room.
Works with a bed or chair sensor mat when a person attempts to get up from the bed or chair.
Connects to the nurse call system so staff can be quickly alerted.
Available as a bed or chair sensor mat.